Blu-ray

NISEKOI Blu-ray: Vol.3
SOLD OUT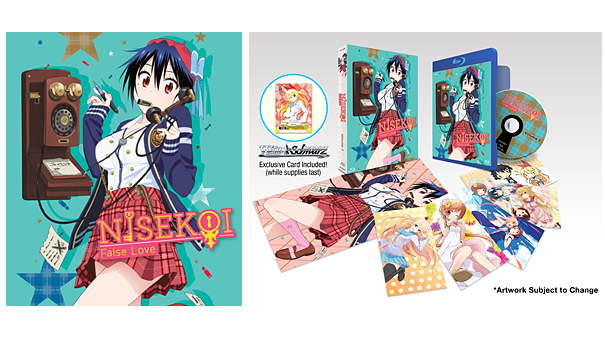 Description

"The girl I made that promise with ten years ago…Was it you?" On their way home from buying Chitoge's birthday present, Kosaki shares her secret scenic overlook with Raku. In the heat of the moment, Raku asks Kosaki the one question that he's been meaning to ask. Kosaki answers by nodding yes.
"Have you ever heard 'Zawsze in love?'" After her birthday party Chitoge confesses to Raku that she too owns a key. Raku is shocked that Chitoge mentions a very familiar phrase.
2 girls…2 keys…Which one could it be?! Raku finds the one photo he took with her ten years ago, but the girl in the photo is neither Kosaki nor Chitoge. She was Raku's fiancée chosen by their parents.
"I've missed you all this time!"…Just when things couldn't get any more complicated, a girl named Marika, who claims to be Raku's true fiancée, transfers to his school adding 1 more key to the puzzle. Will Raku ever be able to find the one girl? Which girl holds the key to Raku's locket and to his heart?
Price

SRP  $64.98
Sales Price $49.98
Disc Spec

Spoken Language: Japanese
Subtitles: English
Aspect Ratio: 16:9 Widescreen
Episodes: 11 - 15
Number of Disc: 1
Total Run Time: Approx. 125 min.
Rating: 13 UP
Bonus Contents

■ Textless Ending (All Star Version)
■ Textless Ending (Marika Version)
Bonus Materials & Special Package

■ Collectable Ending Card Pinups
■ Deluxe Poster and Package Illustrated by Nobuhiro Sugiyama (Character Design & Chief Animation Director)
■ Bushiroad's Weiss Schwarz Exclusive Collectable PR Card Included! (while supplies last)