Blu-ray

NISEKOI Blu-ray: Vol.4
SOLD OUT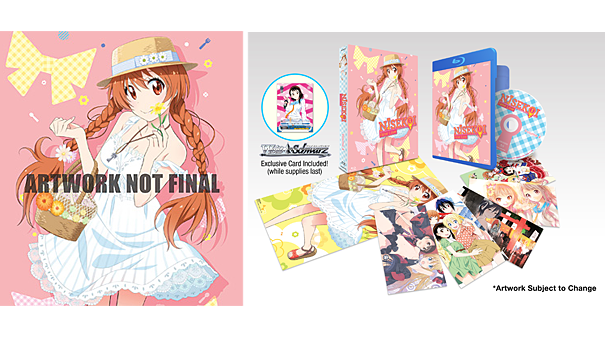 Description

The season is summer—a time for unforgettable memories. At Kosaki's request, Raku helps out at her family's shop. Everything was going smoothly until a seasonal typhoon hits the town rendering it impossible for Raku to go home! Now, Raku must spend the night there while Kosaki's parents are out.
At the summer festival, Chitoge is forced to confront her true feelings when she receives from Raku a matchmaking charm customarily exchanged when a man proposes marriage!
Things intensify when the gang sets out on an excursion to the beach. The girls show off their cute swimsuits as they have fun under the sun. That evening, as they sat together watching the rolling waves, Kosaki is unable to contain her feelings for Raku and finally expresses her feelings for him…!
After an eventful summer break, the students at school begin preparing for the Cultural Festival. Raku is nominated to play the role of Romeo in their class's production of "Romeo & Juliet" while Kosaki is appointed to play Juliet. Raku is beside himself with joy but was also concerned about Chitoge's standoffish attitude towards him since their trip to the beach.
For better or for worse, the day of the Cultural Festival arrives and the stage was not the only place where drama ensued!
Price

SRP  $64.98
Sales Price $49.98
Disc Spec

Spoken Language: Japanese
Subtitles: English
Aspect Ratio: 16:9 Widescreen
Episodes: 16 - 20
Number of Disc: 1
Total Run Time: Approx. 125 min.
Rating: 13 UP
Bonus Contents

■ Textless 2nd Opening
■ Textless Ending (Heroines Version)
■ Textless Ending (Chitoge & Kosaki Version)
Bonus Materials & Special Package

■ Collectable Ending Card Pinups
■ Deluxe Poster and Package Illustrated by Nobuhiro Sugiyama (Character Design & Chief Animation Director)
■ Bushiroad's Weiss Schwarz Exclusive Collectable PR Card Included! (while supplies last)